Contacts
MILAN
Piazza della Repubblica 7-9, 20121 Milan
Ph: +39 02 45413500
Fax +39 02 45413509
E-mail marine@lercari.it
GENOA
Via San Sebastiano 19, 16123 Genoa
Ph: +39 010 5446401
Fax +39 010 587898
E-mail marine@lercari.it
Lercari Marine
The marine division of Lercari Group makes use of highly experienced industry professionals and quality, upgraded facilities.
The division operates in all areas of marine insurance, both in risk assessment and in claims management, with a strong international leaning.
Mission & Vision
Lercari Marine offers a high-quality service, which is a market leader because of its technical/legal, multidisciplinary and international approach.
Our goal is to assist our clients to manage insurance programs and complex claims, situating ourselves as a consistently trustworthy partner, ensuring high-standard services and an innovative and efficient approach.
Lines of Business
Pleasure boats
Hull & Machinery
P&I
Goods in transit
Cargo
Carrier's responsibility
Services
Surveys in Italy and around the world: Our presence in Italy and our global network of specialists, allow us to handle any marine claim that occurs, anytime, anywhere in the world.
Claims management (e.g. high-frequency policies managing deductibles, etc...): Our marine claims management service allows marine insurers and Companies to concentrate on developing and managing their businesses by providing a complete outsourced claims management service
Subrogation: Our recovery department has a considerable experience in the successful pursuit of recoveries in marine claims.  Our success is based on a totally client-focused approach. Our goal is to achieve the best possible results for clients quickly.
What we do
Access to local offices and dedicated qualified staff for each line of business coupled with the international presence of the Lercari Group (through Lercari International based in London and the partnership with Sedgwick) allow Lercari Marine to offer "tailor made" solutions for local insurance plans as well as for international plans, that reflect the diverse aspects and insurance issues of the industrial world and the shipping sector.
The peculiarity of marine business requires solutions which are usually "non standard". That's why we define and deliver "ad hoc" projects, with a dedicated project manager and organizational chart, a workflow which is tailored on the client, and flexible/efficient IT solutions.
This approach puts us in condition to manage complex multinational projects, always granting reliability, control, efficiency, to our clients. We are also specialists in handling high frequency claims, which are typical in transport and logistics.
---
Our Certifications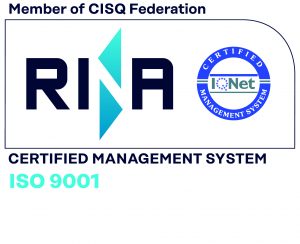 Certified 922/97/S  Genoa Headquarter