Contacts
GENOA
Via Roma 8a, 16121 Genoa
Ph: +39 010 5446650
Fax +39 010 5446659
E-mail info@cl-ita.com
MILAN
Piazza della Repubblica 7-9, 20121 Milan
Ph: +39 02 45413540
Fax +39 02 45413509
E-mail info@cl-ita.com
Service Lercari
The Sedgwick Group and the Lercari Group (on the market since 1879), on the strength of a more than ventennial cooperation, have decided to further consolidate their relationship by including the Italian business operations within the members of the  international Alliance of Sedgwick Group.
In this context , since June 2020, we would announce that Sedgwick Lercari srl has changed its company name to "Service Lercari Srl" a member of the Sedgwick Alliance.
The company, so denominated, is now entirely managed and controlled by Lercari Group and will continue, without interruption, due to the international alliance agreement signed with Sedgwick International UK, to receive, on an exclusive basis, all the assignments ( loss adjusting instructions and TPA), originating from Sedgwick on the Italian territory, the preferential assignment of TPA claims in a significant number of European territories as well as the exclusive use of the Sedgwick international network for the clients of Lercari Group.
Click here to visit our page on the Sedgwick website.
Sedgwick is one of the world's largest claims management companies and a leading global provider of technology-enabled risk, benefits and integrated business solutions. More than 30.000 colleagues, located in 80 countries, offer services designed to keep pace with the evolving needs of our clients and consumers. Millions of people and organisations count on Sedgwick each year when faced with unfamiliar situations that take them away from their normal course of work and life.
Sedgwick's comprehensive business solutions focus on mitigating and reducing risks and losses, keeping employees and organisations healthy and productive, protecting brand reputations, and containing costs that can impact the bottom line.
The Sedgwick Alliance is a unique global network of approved claims management and loss adjusting companies. Working exclusively with Sedgwick, we deliver on the global service standards offered by Sedgwick combined with our own local expertise.
At Sedgwick, caring counts.® Taking care of people and organisations – from public and private employers, to insurers and their policyholders – is at the heart of everything we do.
Sedgwick operational central structure is composed of more than 250 loss adjusters of which approx 100 devoted to international activities.
The international programs handled by Service Lercari concern - in the interests of insurers and re-insurers - both large Italian based corporations with branch activities abroad ("Outgoing Programmes") and the Italian subsidiaries of foreign groups that rely on our company and have formed partnerships with Sedgwick ("Incoming Programmes").
Range of services
The loss adjusting services offered by Service Lercari are mainly focused on the following lines of business:
PD Property (various areas) inlcuding not limited to:
CAR
EAR
Liability (vari campi) including not limited to:
Casualty
Professional Liability
D&O, EPL, PO
Medical Malpractice
Product Liability
Financial Lines
 Marine
Special Risks: BBB, Cash in Transit, E&O, Technological Risks
BI Business Interruption (Loss of Profit, Loss of Margin, ALOP)
Energy/Power
Engineering
Mining
Machinery breakdown
Construction
Electronic Equipment Insurance
Fine Arts & Jewelers Block and Security Investigations
Recovery Actions
Our strengths
Specific know-how and staff skilled to manage international "structured" insurance programs
Efficient network of Loss Adjusters and Surveyors (Sedgwick) spread all over the world
Technical specialization and multidisciplinary approach to carry out the assessments
Availability of the most advanced IT tools for the best management of International Claims which, thanks to their flexibility, can be tailored according to the specific needs of the Clients
Centralized and customized claims handling, through dedicated accounts offering up to date information and a "problem solving" approach
Fluency in English as well as in most major languages
Multilingual direct line available 24 hours a day, for immediate response to every need
---
Our Certifications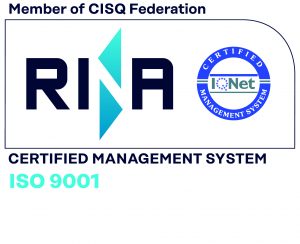 Certified 32326/15/S  Genoa Headquarter